Rust en Vrede Merlot 2017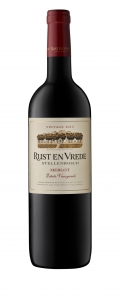 Rust en Vrede Merlot 2017
BACKGROUND
Specialising in the production of red wine only, Rust en Vrede has established itself as one of South Africa 's premium red wine estates. Full-bodied and complex, Rust en Vrede's wines reflect the uniqueness of Stellenbosch terroir. Rust en Vrede is a remarkable three hundred years old wine tradition synonymous with wines produced by Stellenbosch's private estates.

TASTING NOTES
Colour : Crimson garnet.
Aroma : Red berries, fruitcake, floral notes and perfume balanced with subtle oak.
Palate : Rich, concentrated red berry flavours. Vanilla, prune and fruitcake add further personality to this wine made for seafood and lighter meat dishes. Velvety, the finish lingers with loads of spice. A ccessible now, this wine shows legs that require ageing in the bottle. Enjoy this great food wine now through 2010. 15 months in new French oak barrels.